Heritage Railway Miniatures
MODELS MADE BY ANDY WEGMULLER IN HO SCALE (1:87)

MODELS ARE FULLY DETAILED AND FINISHED
HANDCRAFTED MUSEUM QUALITY
COMPOSITE CONSTRUCTION (EPOXY RESIN AND BRASS)
AVAILABLE IN LETTERING SCHEMES FOR DIFFERENT TIME PERIODS
Canadian Pacific Railway Robot cars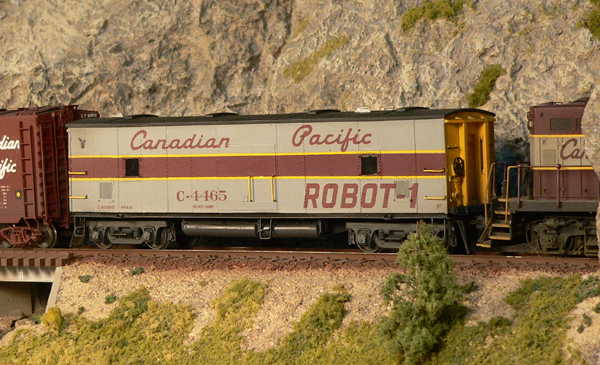 CPR C-4465; The first Robot car.
The first Robot car (Robot-1; C-4467) was put in service in November 1967. It was painted in the tuscan and grey scheme. After a long period of testing four more were built in 1968. They got the then current blue with multi-mark paint scheme, and were numbered from 1002 to 1005.
C-4467 was repainted in blue as well and numbered 1001.
Robot cars contained the receiver equipment for remote control of mid train locomotives used in unit coal and grain trains. They were taken out of service in 1974, as the frames were starting to crack.
This series was converted from 4400 series baggage cars, the ex silk cars.

Model description:
| | | | | | | |
| --- | --- | --- | --- | --- | --- | --- |
| LENGTH | WEIGHT | COUPLERS | WHEELS | TRUCKS | RADIUS REQUIRED | FIRST YEAR PRODUCED |
| 154mm | 110gr. | Kadee #178 | Semi Scale | TMW | 19 inch or 482mm | 2014 |

The masters for this model were developed from prototype drawings, photographs and actual measurements. It is one of a kind Museum quality, completely finished, handmade from epoxy castings. Brass stirrup steps, hand grabs, cut levers and brake rods finish off the model.
The model is fully functional with Kadee scale couplers and semi scale metal wheels.
The model has then been weathered using my unique process. This whole process allows the finer details of the model to come to life giving a "real live" look and making it a truly astounding museum quality model.
Lettering artwork and decals were specifically made for this models.
They are exquisitely detailed according to prototype, yet sturdy.
Versions available are: Robot 1 in Tuscan and grey and blue; Robot 2 in blue.


ROBOT 1 got repainted in 1968 with blue paint job.

ROBOT 2 got a

blue paint job

in 1968 when built.






ROBOT 1 with original paint job.










All pictures © Andy Wegmulle

r